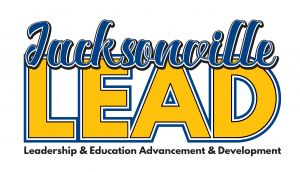 JLEAD's mission is to promote and encourage valuable and respectful opportunities for leadership and educational advancement and development for our community. JLEAD, a 501c3 nonprofit, operates on generous donations and grants to provide these leadership and educational opportunities to the community. All donations are Tax Deductible.
J LEAD meets it's mission through three committees:
Adopt-A-School
Started in 1995 to support the local school district with unbudgeted assistance such as new teacher welcome baskets, classroom grants, job shadowing for high school students and scholarships. Adopt-A-School hosts various fundraisers throughout the year and seeks grant funding when applicable. 
Back 2 School
Annual school supply drive to equip Jacksonville ISD students for a better learning experience. Funding is provided a 9-month program of leadership, team building, training and tours of community resources
Jacksonville Leadership Institute
JLI provides a 9-month program of training and tours of community resources. Each month has a theme such as industry, healthcare, education, social services, government, & etc. Participants also travel to Austin, usually February, to meet with State Senators and State Representatives and tour the Texas State Capital.