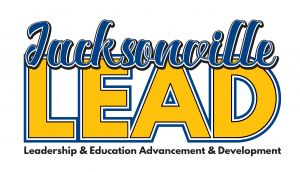 Welcome to the Jacksonville Leadership Institute's page!  I am so glad you are here!  The question is often asked "are leaders born, or are they made?"  I believe that it is both.  Someone can be born with leadership qualities, but it is up to other leaders to grow and develop those that come after us.  Good leaders raise up good leaders.
The Jacksonville Leadership Institute was born out of those leaders that came before us over 35 years ago.  It was decided that there needed to be an avenue to train and encourage those that already lead and those that had the potential to lead.  That idea is still true today.  Many of our city's leaders have obtained valuable lessons and characteristics picked up from their experience in JLI.  Throughout your time in this class you will learn valuable leadership skills, learn about your own strengths and weaknesses, learn things about Jacksonville, Cherokee County, and the state that you may or may not have known, and meet and make lifelong friends and colleagues.  I hope and encourage you to get involved in this worthwhile organization.  I encourage those that have gone through before us to get involved with the alumni association.  Your learning does not end at the completion of your time with JLI.  It is most certainly the beginning!
Shannon Hitt, Chair
Jacksonville Leadership Institute
JLEAD's mission is to promote and encourage valuable and respectful opportunities for leadership and educational advancement and development for our community. JLEAD, a 501c3 nonprofit, operates on generous donations and grants to provide these leadership and educational opportunities to the community. All donations are Tax Deductible.
J LEAD meets it's mission through three committees:
Adopt-A-School
Started in 1995 to support the local school district with unbudgeted assistance such as new teacher welcome baskets, classroom grants, job shadowing for high school students and scholarships. Adopt-A-School hosts various fundraisers throughout the year and seeks grant funding when applicable. 
Back 2 School
Annual school supply drive to equip Jacksonville ISD students for a better learning experience. Funding is provided a 9-month program of leadership, team building, training and tours of community resources
Jacksonville Leadership Institute
JLI provides a 9-month program of training and tours of community resources. Each month has a theme such as industry, healthcare, education, social services, government, & etc. Participants also travel to Austin, usually February, to meet with State Senators and State Representatives and tour the Texas State Capital.